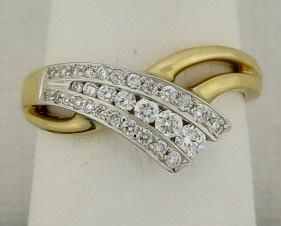 You can walk into just about any jewelry store and find a selection of wedding rings. At McMullen Jewelry, we go above and beyond to provide you with a selection that's simply unrivaled and pieces that are exceptionally beautiful.
Wedding bands
Finding a unique ring can be hard. We work with you to make a special ring for your special day. We have all of your traditional wedding and engagement ring materials, in both classic and contemporary designs. Our wide selection of wedding bands comes in silver, gold and platinum to help create your dream ring.
Diamonds and stones
We carry numerous stones—diamonds and other gemstones—to ensure your dream wedding ring is getting the perfect centerpiece. If you're looking for a sapphire or emerald engagement ring in Wichita, KS, you're in luck! Whether you're interested in rubies, sapphires, emeralds or even amethysts, we can help create something special just for you. We invite you to stop by, check out our stones and choose one for yourself,
Wedding ring repair
Wedding rings, like all kinds of jewelry, need regular maintenance and repair over time in order to maintain a brand-new look. Does your wedding ring need to be resized? Is it starting to show signs of wear and tear? Our staff can provide on-site repairs to make your jewelry look (and feel) brand-new again. Proper care not only restores the appeal and splendor of your ring, it'll help it stand the test of time.
At McMullen Jewelry, we believe anyone who comes into our store deserves to leave with a quality piece of jewelry, regardless of their budget. That's why we only carry the finest quality of wedding rings and stones at all levels of prices. If you're looking for a diamond wedding ring or a ruby engagement ring near Wichita, KS, we have something for you. Stop on in today, or give us a call at 316-684-1611.