From your favorite heirloom piece to a sentimental accessory, it's important to keep your jewelry in its best condition. But with age and wear come damages. Don't let them drag down the beauty of your jewelry! Bring your pieces to McMullen Jewelry Natural Stone Gallery for repair and restoration. We welcome the unique pieces of Wichita, Bel Aire, Haysville, Eastborough, and Oaklawn-Sunview, KS area customers and will make sure your jewelry gets the absolute best care.
Our jewelry experts are skilled in all forms of appraisal and repair—including platinum, gold and silver jewelry repair. We even specialize in heirloom pieces and turquoise Indian jewelry repair. Whatever it takes to repair your pieces, rest assured we do the work in-store. Nothing is ever sent out and your precious pieces are always in the hands of our well-trained experts.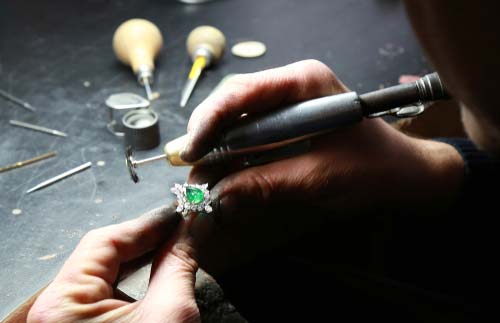 Silver Jewelry Repair: Authentic silver jewelry is a thing of beauty. Don't let your earrings, bracelets, necklaces or other accessories succumb to age. We handle complete silver repairs, from clasp replacements to new chains and more.
Gold Jewelry Repair: From 18ct gold to high-value 24ct pieces, we're able to repair most issues with ease. Bring us your tarnished or blemished pieces, broken pins or clasps, loose prongs or any other problems and watch as we set them right in no time.
Platinum Jewelry Repair: Platinum jewelry deserves skilled attention when it comes to repairs. Whether it's a ring, bracelet, earrings or a necklace you're bringing us, trust in the skills of our in-house repair team. We're the best in Wichita, KS!
Diamond Replacements: Diamonds are the center piece of so many beautiful pieces. Unfortunately, loose prongs, damaged settings or unsecured diamonds can ruin the appeal of your pieces. We reset diamonds with care, so they stay firmly in position.
Indian Jewelry Repair: Need turquoise resetting as part of Indian jewelry repair? We handle one-of-a-kind, handmade pieces with absolute care, restoring them to a like-new condition so you can wear them again proudly.
Colored Stone Replacements: Have a piece with unique opals or sapphires? Garnets or rubies? Amethyst or onyx? We're familiar with all types of precious and colored stones, and will treat them right as we make repairs.
Repair Services Offered
Jewelry resizing: We resize many types of jewelry, including wedding and engagement rings.
Chain Repair: There's no reason to worry if your favorite necklace's chain breaks! We can restore broken links and provide clasp repairs.
Stone Replacement: If your jewelry's stone is showing damage or tarnish, there's no need to worry. We carry one of the largest selections of gemstones and diamonds in the area.
Polishing and Re-Polishing: If your jewelry is lacking in shine or sparkle, we're prepared to polish and re-polish your stones and metal.
Rebuilding Prongs: You don't want your jewelry's stone to fall out! Repairing prongs is one of the most important things to do to extend the life of your jewelry and to keep it looking new.
Don't let the beauty and allure of your jewelry disappear because of simple damages. Bring your pieces to McMullen Jewelry Natural Stone Gallery to have them repaired in-house, by a team that takes exquisite care of your prized accessories. Contact us today at 316-684-1611 and let us know how we can repair your jewelry.